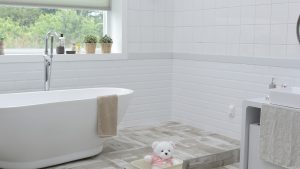 Contrary to popular belief, renovating your bathroom does not need to cost a fortune – particularly if you plan ahead of time.
Labour costs are an important part of bathroom renovation, so it is recommended you look at how you could reduce this. Whether you are thinking about marble worktops or stone tiles, a simple tip is to keep all sanitaryware and the WC in the same location but update them individually. This way, you will not need to pay for a relocation of the plumbing system.
1. Updating the Tiles
One of the best methods to give life to an outdated area is by setting new tiles. Tiles are low maintenance and durable, so they are ideal for any room prone to humidity. It is recommended that you try out the tiles before placing any large orders. This ensures the tiles chosen will complement the bathroom and helps to avoid any reorders.
2. The DIY Option
Another method used to control costs is by doing it yourself. One way to add 'personality' to the room is by tiling the wall halfway up and then paint the rest of the area above the tiling. This requires fewer tiles for renovation and offers you the chance to change the colour scheme in the bathroom.
The DIY option is ideal because you can take on the project yourself avoiding labour costs. Many self-help resources are available either in book form or online tutorials. Ensure you make use of resources that are closer to home. According to the head of marketing and online at Topps Tiles, Sian O'Neill, it is best to head to a local tile store for tools, tiles, grouts and advice.
3. The High End, Low-Cost Option
One of the most elegant bathroom tile options is natural stone tiles. The hardwearing and subtle style properties make them a practical and aesthetically pleasing choice. Unfortunately, natural stone tiles can be costly and are not suitable for rooms exposed to water. This is due to their naturally porous surface.
A way to add colour and interest in the bathroom is by using mosaic tiles. Mosaic tiles are cost-effective, and a few sheets can go a long way. The tiles can be cut easily into strips to form focal-point features or borders.
Patterned tiles are another way of adding personality to a room without breaking the bank.
4. Saving Time with Wall Panelling
If you are not keen on the idea of bathroom disruption when putting up tiles, it may be worthwhile considering wall panelling. This is completely waterproof and can be installed independently directly over current tiles.
5. A Touch of Paint
For large renovations at little cost, it is recommended you add a fresh coat of coloured paint. You must ensure that the paint chosen can withstand both damp and warm conditions, such as the Dulux Bathroom paint.
People do not spend much time in the bathroom, so it might be best to choose a paint that makes an immediate statement. Use the free Dulux visualiser app to see which colours would look best on the bathroom walls in real-time. You can also order testers using the app so you can try the paint before committing.
6. Investing Now and Saving Later
Investing in high-quality products is good from a financial perspective, especially when dealing with brassware. Brassware is not only easy to use, but it lasts much longer than any cheaper alternatives. Remember, you must always choose the brassware to work with the water supply ensuring you get more than a single trickle of water when turning the tap on.
7. Bath, Shower or Both?
If you are interested in saving space, as well as reducing the cost of separate baths and showers, it may be worthwhile to look at a shower-bath. If you prefer the shower enclosure, low profile shower trays or slender frames are available at a standard rate.
8. More Money-Saving Alternatives
A shower valve allows a person to control the flow of water spewing from the showerhead, as well as setting the temperature. The valves can be concealed behind the bathroom wall with only the handles and control plate on display, or it can be exposed to fit with a specific theme. Exposed valves are visible within the shower closure and are not as sleek as the hidden option. However, exposed valves are easier to install because no pipework needs to be placed with the wall. It is also much easier to repair when the valve becomes clogged or damaged. You may consider an electric shower instead of a mixer one to reduce costs.
9. The Pocket-Friendly Vinyl Flooring
The majority of bathrooms in the United Kingdom are small, so replacing flooring should not be too expensive. This is particularly true if you choose an affordable flooring, such as vinyl.
If you want to reduce initial costs, it is recommended that you choose the sheet variety. It is also easy to install and highly durable. Unfortunately, this variety can be challenging to repair, so using luxury vinyl tiles would be better if the bathroom is a high traffic area. Tiles are more costly than sheets, but they offer stone-effect or wood designs and are very durable. They are also easier to replace when damaged.