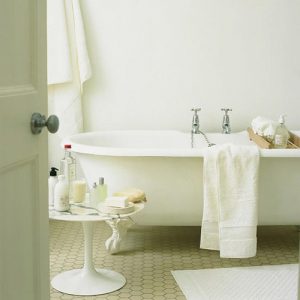 Renovating your bathroom for a fresh new look need not cost a fortune, especially if you do some research and plan ahead.
Cutting Costs
As labour costs are a significant part of any renovation project, start by looking at ways to reduce this cost. One way to save on labour is to leave your sanitary ware and WC in the same positions to save the cost of relocating the plumbing. You can still update the look of your bathroom by replacing the pieces themselves with new modern versions.
Update the Look with Tiles
Tiling is a simple way of uplifting your outdated walls and floors. Tiles are not only durable and easy to keep clean; they are also perfect for bathrooms that are prone to humidity and mould problems.
Try out a few samples to help you choose the best colour and design for your new bathroom look before placing a large order. This will avoid costly reorders if you change your mind.
DIY
A good way to control costs is to do the tiling yourself. There are plenty of ways to get help in the form of online tutorials or self-help guides. Make use of resources closer to home by popping into your local DIY store for advice on the best tiles, grouts, and tools to use. This advice comes from the head of Marketing and Online at Topps Tiles, Sian O'Neill.
Tiling halfway up the wall to where water comes into contact with the surface will require fewer tiles which will result in a significant cost saving. In addition, it has the added advantage of applying a personal touch by using a different colour to paint the wall area above. It also allows you an easy way to change the mood and look of your bathroom in the future by simply repainting above the tiles.
High End, Low Cost
Thanks to their hard-wearing properties, subtle style, and beauty, natural stone tiles are a timeless choice for bathroom trends. However, because they are naturally porous, they are not really suitable for use in areas such as bathrooms that are exposed to water on a regular basis. They can also be quite an expensive option.
Mosaic tiles are more affordable and will add colour and interest to any bathroom. A few sheets of mosaic tiles can go a long way easy to work with as they can be cut into strips for borders or to create interesting focal-point features. Using patterns is a great way to add interest to bathrooms on a budget.
Use Wall Panelling to Save Time
If the thought of having your life disrupted for days while putting up tiles does not appeal to you, wall panelling is a good option. You can install wall panelling directly to a wall or over existing tiles and they are 100% waterproof.
Instant Revamping with a Lick of Paint
A fresh coat of paint is all that is needed to achieve a big transformation at a very low cost. Just ensure that the paint you choose is designed for use in damp and warm conditions. Dulux Bathroom+ is a good option.
For maximum change and great impact, choose a colour that will make an instant statement. The Dulux Visualiser app is a handy tool that you can download for free to help visualise what a colour will look like on your walls in real-time. You can also use the app to order testers to try out before making a final decision.
Invest Now, Save Later
Investing in the best quality products for your bathroom makeover will make good financial sense in the future. This is especially true when it comes to brassware. Not only is brassware good to look at and a pleasure to use, but it will also last a lot longer than other cheaper alternatives.
When choosing brassware, make sure that the brand and style you choose will work well with your water supply to ensure enough pressure so that you will get more than just a trickle when you turn on the tap.
Shower, Bath or Both?
If you are keen to save space and money, consider investing in a combination shower-bath instead of two separate units. If you prefer the space and convenience of an enclosed shower, slender frames and low profile shower trays are now available as standard fare.
More Money Savers
The use of shower valves will allow you to control the temperature and flow of the water coming from the showerhead. They can either be left exposed with visible pipework or concealed behind the wall with only the handles and control plate on display. Exposed shower valves may not give your bathroom a sleek look; however, they are easier and cheaper to install as it doesn't need pipework to be chased into a wall. They are also much easier to access if repairs are ever needed.
Another option is to install an electric shower instead of a mixer unit.
Pocket-Friendly Vinyl Flooring
Fortunately, the average size of a British bathroom is quite small so flooring should not cost a fortune, especially if you choose a budget-friendly covering such as vinyl. To keep the initial cost low, look for the sheet variety that is easier to install than tiles. Vinyl is incredibly durable but the sheet variety can be difficult to repair. If your bathroom endures very high traffic, luxury vinyl tiles will be a better option as they are easy to replace when damage occurs. They are incredibly hard-wearing, fully water-resistant, easy to install and come in realistic stone or wood-effect designs. Luxury vinyl tiles are more expensive than the sheet version, but they will definitely enhance the aesthetic look of your bathroom.
Laminate is another good option for bathroom flooring. In the past homeowners often had to sacrifice style for affordability; however, advanced printing technology means that anyone can use affordable laminate designs that look just like natural materials such as wood and stone. More ideas can be found from kitchen showrooms in Camberley.