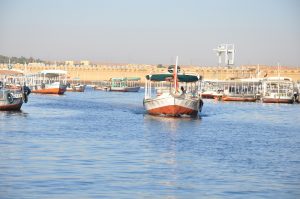 Do you want to visit the very best in tourist sites of Ancient Egypt while travelling in a comfortable and even romantic way? If so, then a luxury Nile cruise is just for you. The ancient citizens of Egypt lived up and down the banks of this famous river, which is why so many Pharaohs built their tombs and temples along its banks. This makes it the ideal way to navigate all the attractions, by traversing the water itself.
If you are considering booking a cruise or are heading out on one soon, then you should know about our favourite wonders in this ancient realm that you should visit to truly make the most of your holiday here. Egypt Escapes offer the choice to start your cruise from the north, in Cairo, or you can even take the reverse journey by starting in the South at Aswan or Luxor. Today, we're focusing on the potential starting point of Aswan, a breathtaking city that was once the southernmost frontier for ancient Egypt.
Aswan Truly is the Jewel of the Nile
Aswan was Ancient Egypt's southernmost frontier. It's also where the Nile can be considered its most gorgeous, as it carves its way through golden deserts, flowing endlessly around emerald islands. It was originally known as either Swenet or Swen, and it served as a gateway to the rest of Africa. The city was a crucial crossroads for trade. This region also happened to be a source for quarried granite used in the temples and monuments built back then. This tremendous city is a great place to visit, with the relaxed vibe of Nubian culture being quite different from the hustle and bustle of tourist sites in nearby Luxor or the always frenetic Cairo. This place has a number of attractions you really should see, including the following:
Abu Simbel
This is an ancient temple complex. It's not easy to get to, but it is well worth it. It was initially created during the time of Ramesses II, and it has two different chambers, which are guarded by a quartet of giant statues of none other than Ramesses himself. This jaw-dropping structure originally got carved into the rock face, taking a whole generation to create. This whole temple got relocated during the 1960s in order to protect it from the erosion resulting from construction around the Aswan High Dam.
Temple of Isis at Philae
This is thought of by many as the final temple to be constructed in classic Egyptian style. This tremendous temple was another site that UNESCO relocated prior to the Aswan High Dam construction. Visit here to marvel at the many hieroglyphics. If you can, visit at night for a unique view of the soaring columns during one of the light and sound shows.
Kom Ombo
This is a fascinating double temple dedicated to both Sobek, the crocodile god, and Haroeris, the falcon god. This soaring structure has precision symmetry, featuring a multitude of chambers that might have been courts, temples, sanctuaries, and halls. Stroll underneath the various colonnades to find yourself whisked away back into ancient times.
Temple of Horus at Edfu
This sits on the river's west bank, about 60 kilometres north from Aswan. It's one of the nation's best-preserved ancient monuments. This Ptolemaic temple is dedicated to the son of Osiris and Isis, following a classical structure and design featuring courts, statues, many chambers, and of course walls decorated with hieroglyphics. It's the second biggest temple across the country, and it's very popular among many tourists for its authentic taste of what life was like in ancient Egypt.