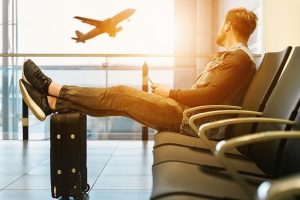 When you choose to fly Club World you elevate your journey and make it extra special before you even land at your destination such as Hotel Ikos Andalusia. Here are five things that make upgrading a flight well worth it.
1 – Flavourful Food
The food served by airlines has a bad reputation, and those who complain have valid reasons to do so. Aircraft galleys are not fully equipped kitchens and the food tends to be rather bland out of necessity. Airlines are fighting a difficult battle, too, because our sense of taste and smell is altered by the combination of low humidity, high altitudes, and the recirculated air on the plane. Of course, not everything about the airplane dining experience is caused by being in the air, and it is possible to make a nice meal.
When you choose a Club World upgrade, you get to look forward to three-course meals with each dish made out of seasonal produce that was locally sourced. Each course is elegantly presented so you can, for a moment, forget that you're dining on a plane.
If you have food intolerances or follow a special diet, then you can state that on your booking and enjoy a vegan, gluten-free or otherwise dietary compliant dish.
Choose from a selection of desserts, starters, cheese plates and other dishes to suit your tastes. The glassware and china are stylish and modern and the table settings have been improved too. All London Heathrow and London Gatwick routes feature these luxurious improvements.
2 – Be at Home In the Air
The Club Kitchen is a special space offered by BA for passengers to help themselves to whatever they fancy. Enjoy retro sweets, Cadbury's chocolates and branded crisps, as well as fresh fruit, salads and sandwiches. Whether you want a healthy snack or something more indulgent, there are options available for you.
There are plenty of nice drinks, too, including Twinings teas and infusions as well as traditional English Breakfasts and Earl Grey teas, peppermint infusions and green teas. Coffee lovers can enjoy a new blend produced by Union Hand-Roasted Coffee.
3 – Special Wines
They say that wine is like good poetry, and the wine experts at British Airways aim to live up to that with a stunning wine list of both Old and New World wines. If you're a fan of other beverages you can enjoy the list of Champagne, premium-brand spirits and mixers, and more. The selection include Glenlivet Master Distiller's Reserve Whisky, Tanqueray Gin, Fever Tree tonic, Ciroc vodka, and more.
4 – Sweet Dreams
When you fly in coach, sleeping is almost impossible. British Airways want to make Club World a better place to rest your head. The seat lays flat to become a comfortable bed, and you are provided with bedding, too. The White Company provides the quilted mattress topper, a full-sized luxury pillow, and a duvet, as well as a soft and gorgeous blanket so that you can curl up and get a good night's sleep. The bed linen is 200-thread-count cotton that is crisp and comfortable, and everything supplied is hypoallergenic so you can be confident that you will enjoy a cosy and comfortable flight, whether you opt to stay sat up or snuggle up in your temporary bed. Comfort comes first when you fly with Club World.
5 – Sophisticated and Yet Relaxed
It's the little finishing touches that make the difference. The lighting in the Club World cabin is kept at a relatively low level so that passengers can relax and sleep. The goal of the cabin crew is to be polite and attentive, yet not invasive, so the crew will note individual preferences at the start of the flight, and adapt the service to match your needs.
If you don't want to sleep on the flight, you can use the personal flat-screen display to watch a film or some TV with our comfortable noise-canceling headphones, listen to music and audio books, or even play games.